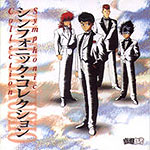 Yu Yu Hakusho Symphonic Collection 1 is Yu Yu Hakusho album which most of the tracks contents Yu Yu Hakusho Opening, ending, and Character Song Musics with Symphonic Melody or Opera Melody.
Track Lists
Edit
There are 10 tracks in Yu Yu Hakusho Symphonic Collection 1 album, including :
Introduction
Unbalance Na Kis wo Shite (Long)
Hohoemi no Bakudan (Long)
Taiyou ga Mata Kagayaku Toki (Long)
Homework ga Owaranai (Long)
Mienai Mirai e, Yasashisa wa Nemuranai, Hikari no Naka de
Day Dream Generation (Long)
Sayonara Bye Bye (Long)
End (Credits)
References
Edit
Song lists and album scans from YYHstash.
CD information at VGMdb
Ad blocker interference detected!
Wikia is a free-to-use site that makes money from advertising. We have a modified experience for viewers using ad blockers

Wikia is not accessible if you've made further modifications. Remove the custom ad blocker rule(s) and the page will load as expected.