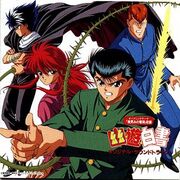 Yu Yu Hakusho Original Soundtrack 1
is the first Yu Yu Hakusho that was released on February 19, 1993 at Japan by Media Remoras Inc. Japan. Most of songs in
Yu Yu Hakusho Original Soundtrack 1
are Background Musics or Known as BGMs of Yu Yu Hakusho TV Series.
Track Lists
Edit
There are 12 tracks in Yu Yu Hakusho Original Soundtrack 1, including :
Hohoemi no Bakudan (Opening) by Mawatari Matsuko.
Yuusuke's Theme.
Tatakai no Toki.
Kurama's Theme.
Kuwabara's Theme.
Koenma's Theme.
Botan's Theme.
Time Limit.
Monster Suit.
Romance.
Homework ga Owaranai (Closing) by Mawatari Matsuko.
References
Edit
Song Lists and Front Album Scan from YYHstash
Back Album Scan and Other Info from Reikai-guide.net
Ad blocker interference detected!
Wikia is a free-to-use site that makes money from advertising. We have a modified experience for viewers using ad blockers

Wikia is not accessible if you've made further modifications. Remove the custom ad blocker rule(s) and the page will load as expected.