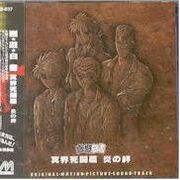 Yu Yu Hakusho Original Motion Picture Soundtrack is Yu Yu Hakusho Music Album which most of the contents are Background Music of Yu Yu Hakusho Movie 2, Bonds of Fire.
Track Lists
Edit
There are 26 tracks in Yu Yu Hakusho Original Motion Picture Soundtrack, including :
Oshi Yoseru Ihen
Kinpaku
Dooran
Reiki no Kiki
Meikai
Yakumo
Nani Ka Ga Chikau
Hisshi no Teikoo
Konjoo Icchokusen by Kazuma Kuwabara (Chiba Shigeru)
Osae Kirenu Ikari
Kuronue...!
Kurusen
Nightmare by Kurama (Ogata Megumi)
Kurama no Hitsuu
Raigo
Yukina yoo.. by Hiei (Hiyama Nobuyuki)
Shisen Joo no Aria (Aria of the Stare) by Hiei (Hiyama Nobuyuki)
Don Zoku Kara no Tooshi
Yuuki wo Motte
Anata wo Dakishimeru Watashi de Itai by Hinageshi (Chisa Yokoyama)
Makeru Wake ni wa Ikanee
Akatsuki no Chikai ~Rising Sun~ by Yusuke Urameshi (Sasaki Nozomu)
Seikon no Shourii
Kyoofu, Futatabi
Kanzen Shoori ~Soshite Mirai e~
Sayonara wa Iwanai (Never say Good Bye) ~Ending Theme by PERSONZ
References
Edit
Song List, Album Cover Scans from YYHStash.
Ad blocker interference detected!
Wikia is a free-to-use site that makes money from advertising. We have a modified experience for viewers using ad blockers

Wikia is not accessible if you've made further modifications. Remove the custom ad blocker rule(s) and the page will load as expected.