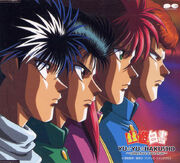 Yu Yu Hakusho Collective Rare Trax was released together with Yu Yu Hakusho Collective Songs, On March 17, 1999 at Japan By Pony Canyon INC., Japan. Most of the songs in Yu Yu Hakusho Collective Rare Trax are sung by Yu Yu Hakusho Voice Actors, including : Nozomu Sasaki (Yusuke Urameshi), Ogata Megumi (Kurama), Orikasa Ai (Shizuru Kuwabara), Tanaka Mayumi (Koenma), Chiba Shigeru (Kazuma Kuwabara), Amano Yuri (Keiko Yukimura), and Hiyama Nobuyuki (Hiei)
Track Lists
Edit
There are 13 Tracks or songs in
Yu Yu Hakusho Collective Rare Trax
Album, Including :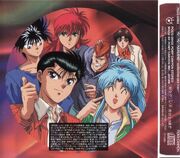 Hohoemi no Bakudan by Ogata Megumi.
Unbalance na Kiss wo Shite by Nozomu Sasaki.
Sayonara Bye Bye by Orikasa Ai.
Taiyou ga Mata Kagayaku Toki by Nozomu Sasaki.
Daydream Generation by Tanaka Mayumi.
Homework ga Owaranai by Ogata Megumi.
All Right!! (Re-Mix) by Nozomu Sasaki.
Dead or Alive ~Toushin~ (Re-Mix) by Nozomu Sasaki.
Koori no Naifu wo Daite (Re-Mix) by Ogata Megumi.
Kuchibue ga Kikoeru (Re-Mix) by Hiyama Nobuyuki.
Tasogore ni se wo Mukete by Hiyama Nobuyuki.
Omoide wo Tsubasa ni Shite by Nozomu Sasaki & Amano Yuri.
Yasashisa wa Nemuranai by Nozomu Sasaki, Chiba Shigeru, Ogata Megumi, Hiyama Nobuyuki.
References
Edit
Song lists, Front and Back side of the album from Reiwave@Live Journal.
Ad blocker interference detected!
Wikia is a free-to-use site that makes money from advertising. We have a modified experience for viewers using ad blockers

Wikia is not accessible if you've made further modifications. Remove the custom ad blocker rule(s) and the page will load as expected.