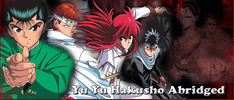 Yu Yu Hakusho Abridged is a parody series that was started off by Lanipator[1] on Youtube after being inspired by the better known Yu-Gi-Oh! Abridged[2][3]. As an abridged series, the story of the original Yu Yu Hakusho is dramatically shortened and satirized using pop culture references, pointing out flaws in the series (such as animation, logic, or story plot), and various other jokes. The series is currently only 20 episodes, a movie, and a few specials long due to Lani's computer troubles, but recently he has expressed intrest in continuing the series provided he can get enough money for repairs.
Ad blocker interference detected!
Wikia is a free-to-use site that makes money from advertising. We have a modified experience for viewers using ad blockers

Wikia is not accessible if you've made further modifications. Remove the custom ad blocker rule(s) and the page will load as expected.