Ogre Killer

Kanji

鬼キラー

Viz

Ogre Killer

English

Ogre Killer

Base

Demon Energy

Rank

B

Type

Energy Ball

Class

Offensive

Color

Orange/Yellow

Range

Long

Users

Chu
Ogre Killer is a powerful technique, derived from Sui Ken, was used by Chu as his weapon technique most damage.
After several years of training improving the Sui Ken, Chu created a powerful technique based on Ogre Killer beverage consumption, and thus having as its technique probably stronger. During his fight with Yusuke in the Dark Tournament, Chu saw a demonstration not offensive Spiirt-Gun, so he decides to use his power completely, then Chu, eat drink Ogre Killer, and expresses the technique of the same name.
After drinking the beverage Ogre Killer, Chu positions both hands, one above the other, in front of his adomem then focuses his Demon Energy between them, he goes on to shape the energy in a circular format and expands constantly, when the ball reaches a size of a ball of Baseball, Chu stabilizes, making the extremely maneuverable. So Chu, pierces the ground with force, using her leg, and throws the ball at high speed,to launching a bid as fast a game of Baseball.
Ogre Killer, in its final state, it has the shape of a sphere, slightly larger than a baseball, energy makes a vivid orange color.
Powers and Effects
Edit
The destructive power of Ogre Killer, is equivalent to the Spirit of Yusuke-Gun (during the beginning of the Dark Tournament) when shocked directly to the Spirit-Gun, its power turned out to be exactly equal, since one technique to another annulled. Despite not having been shown his true destructive power can be assumed that he is able to easily create powerful explosions, and exterminate youkai and humans, lower the class C, the same has not been shown after the events of the tournament, possibly the technique must have been much more destructive as the progress of Chu, at its current level, theoretically it should be strong enough to destroy mountains without difficulty.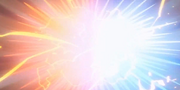 Ogre Boulder
Edit
Chu also can modify the intensity of energy concentrated in Ogre Killer, creating a larger and more powerful version.
Ad blocker interference detected!
Wikia is a free-to-use site that makes money from advertising. We have a modified experience for viewers using ad blockers

Wikia is not accessible if you've made further modifications. Remove the custom ad blocker rule(s) and the page will load as expected.