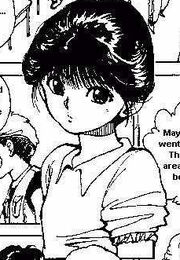 Maya Kitajima
(喜多嶋麻弥,
Kitajima Maya
) is a classmate of
Kurama's
junior high school one year before the start of the series. She is infatuated with him and also has a keen spiritual perception. She notices Kurama talking to a demon and he lies to her and denies this. Afterwards she reveals her love for him, and he relplies that he is sorry, Kurama is attacked by Hiei, who thought him to be
Yatsude's
henchman. As they move the battle away from Maya, she gets kidnapped by one of Yatsude's real henchmen. Four hours later,
Hiei
wakes up in Kurama's room, recovered from his wounds. They then go to an abandoned doll factory to face Yatsude. At the brink of death, he reveals that Maya is still alive. To keep her safe, Kurama uses a flower to erase her memory of the recent happenings and of her love for him. Maya is not seen again. However, during the dark tournament fighting against Ura Urashima Kurama has flashbacks of his childhood where a Jr High and child verson of Maya appear- this is only in the manga.

References
Yu Yu Hakusho Manga vol. 7, chapter 9.
Ad blocker interference detected!
Wikia is a free-to-use site that makes money from advertising. We have a modified experience for viewers using ad blockers

Wikia is not accessible if you've made further modifications. Remove the custom ad blocker rule(s) and the page will load as expected.