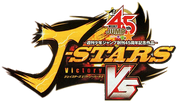 J-Stars Victory Vs (originally titled as Project Versus J) is a crossover video game by Namco Bandai Games for PlayStation 3 and PlayStation Vita.
The game was first announced in December 2012, in the second 2013 issue of Weekly Shōnen Jump. It was made to commemorate the 45th anniversary of Jump, and it is presented as the "ultimate Jump game". The game is set to release on March 19, 2014 on the Playstation 3 and Playstaion Vita.
Playable Characters
Edit
Yusuke Urameshi (YuYu Hakusho) (Base, Demon Mazoku)
Younger Toguro (YuYu Hakusho) (80%, 100%)
Hiei (YuYu Hakusho)
Monkey D. Luffy (One Piece) (Base, Gear Second)
Portgas D. Ace (One Piece)
Boa Hancock (One Piece)
Sakazuki (One Piece)
Toriko (Toriko)
Zebra (Toriko)
Son Goku (Dragon Ball Z) (Base, Super Saiyan)
Vegeta (Dragon Ball Z) (Base, Super Saiyan)
Frieza (Dragon Ball Z) (Final Form)
Naruto Uzumaki (Naruto Shippuden) (Base, Sage Mode, Tailed Beast Mode)
Sasuke Uchiha (Naruto Shippuden) (Base, Susano'o Mode)
Madara Uchiha  (Naruto Shippuden)
Ichigo Kurosaki (Bleach) (Base, Final Getsuga Tenshou)
Sousuke Aizen (Bleach) 
Kenshin Himura (Rurouni Kenshin)
Makoto Shishio (Rurouni Kenshin)
Kankichi Ryoutsu (KochiKame) (Base, Bicycle 'Chidori')
Gintoki Sakata (Gintama) (Base, Scooter)
Gon Freecss (Hunter × Hunter)
Killua Zoldyck (Hunter × Hunter)
Taro Yamada (Chinyuki: Taro to Yukaina Nakama Tachi)
Medaka Kurokami (Medaka Box) (Base, War God Mode)
Tsunayoshi Sawada with Reborn (Katekyō Hitman Reborn!)
Tatsumi Oga with Baby Beel (Beelzebub)
Jonathan Joestar (JoJo's Bizarre Adventure)
Joseph Joestar (JoJo's Bizarre Adventure)
Meisuke Nueno/Nūbē (Jigoku Sensei Nūbē)
Korosensei (Assassination Classroom)
Seiya (Saint Seiya)
Kenshiro (Hokuto no Ken)
Raoh (Hokuto no Ken)
Arale Norimaki (Dr. Slump)
Bobobo-bo Bo-bobo (Bobobo-bo Bo-bobo)
Luckyman (Tottemo! Luckyman)
Momotaro Tsurugi (Sakigake!! Otokojuku)
Kusuo Saiki (Saiki Kusuo no Psi Nan)
Other characters
Edit
Characters making a cameo in the game as either attacks, in the background, etc.
External Links
Edit
Ad blocker interference detected!
Wikia is a free-to-use site that makes money from advertising. We have a modified experience for viewers using ad blockers

Wikia is not accessible if you've made further modifications. Remove the custom ad blocker rule(s) and the page will load as expected.