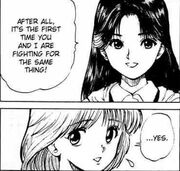 Though Eri Kiuchi (木内えり, Kiuchi Eri) was the quieter one, while Katsumi Sato (佐藤勝美, Satō Katsumi)was more extroverted and outspoken they were good friends and never quarreled.
Behind her facade of confidence, however, Katsumi was always jealous of Eri because Eri's grades were slightly higher than her's, and she was always being compared to Eri. Seeing how there was only one available spot for a scholarship for the prestigious N high school that both were striving for, Katsumi knew that she would lose and thus found a curse in an old library book and placed the curse on her friend Eri, out of jealousy. Eri began hearing strange voices, saw illusions, and faced near death multiple times, thanks to the curse.
Katsumi soon regretted her choice and tried to stop the evil spirits, but the deed had been done, and the ghosts began attacking her. Ultimately, however, Katsumi's will was strong enough to break the curse.
Despite the fact that both girls got perfect scores on their standardized tests, they both decided to go to an all girl boarding school, "S high school", in which they could both go without competing with each other, much to the dismay of their teachers (who were even willing to allow the girl that wasn't picked for N high to go to another prestigious high school).
Ad blocker interference detected!
Wikia is a free-to-use site that makes money from advertising. We have a modified experience for viewers using ad blockers

Wikia is not accessible if you've made further modifications. Remove the custom ad blocker rule(s) and the page will load as expected.