Double Sword Spirit is twofold variation Spirit Sword, which differs only by having two swords. Was developed by Kuwabara order to provide you with a multiple offensive capability. 
Double Spirit Sword

Kanji

霊剣二刀流 (Rei Ken Nitōryū)

Viz

Double Aura Sword

English

Spirit Sword Two Blade Style

Base

Spirit Energy

Rank

C

Type

Weapon/Energy

Class

Offensive(usually)/Variable

Color

Yellowish Orange

Range

Short

Users

Kazuma Kuwabara
During his preparatory training for the Dark Tournament, Kuwabara learned some new techniques, based on his old Spirit Sword, and with purpose to gain greater attack power, he learned to express multiple Spirits Swords simultaneously. The first time Kuwabara demonstrates this technique, is during the battle against the demons on the boat to the Dark Tournament in the manga and later uses it against Rinku. In the anime however he only uses it during the fight against Rinku.
In essence, the technique is only one standard Spirit Sword, and as such form also manifest. Kuwabara focuses its energy on both hands to create peaks of light, and then shapes the energy so that they take the form of swords.
Being technically a Spirit Sword, their appearance is identical, thus taking the form of two mediavais swords, composed entirely of energy.
Power and EffectEdit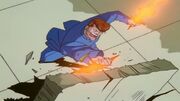 The ability to damage that this technique has, is identical to the Spirit Sword. The real differentiator of the Spirit Sword in the field of combat, is the fact that it is multiple, allowing Kuwabara bend efficiency of their attack and inflicted damage, it also validates to defense, where the ability to reflect enemy attack folds. With two swords is also possible to attack multiple people in different directions, as well as defend against multiple people, or even to defend and attack simultaneously.
Ad blocker interference detected!
Wikia is a free-to-use site that makes money from advertising. We have a modified experience for viewers using ad blockers

Wikia is not accessible if you've made further modifications. Remove the custom ad blocker rule(s) and the page will load as expected.