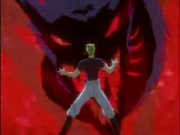 The following are the results from the second official Yu Yu Hakusho manga character popularity poll, which was conducted in Japan prior to the Chapter Black Saga being published. A total of 53, 654 people voted and Yoshihiro Togashi included a two page tribute the importance and legitimacy of this poll in volume twelve of the manga.[1]
Final Standings
Edit
1st - Hiei (20,764 votes)
2nd - Kurama (13,514 votes)
3rd - Yusuke (10,048 votes)
4th - Kuwabara (3,060 votes)
5th - Koenma (1,172 votes)
6th - Botan (1, 063 votes)
7th - Genkai (841 votes)
8th - Karasu (698 votes)
9th - Pu (566 votes)
10th - Younger Toguro (447 votes)
Last - Elder Toguro (421 votes)
References
Edit
↑ Yu Yu Hakusho manga; Volume 12
Ad blocker interference detected!
Wikia is a free-to-use site that makes money from advertising. We have a modified experience for viewers using ad blockers

Wikia is not accessible if you've made further modifications. Remove the custom ad blocker rule(s) and the page will load as expected.